By Wendy Teleki, Head of the We-Fi Secretariat
When I was growing up in the 70s and 80s, women leaders on the international stage were hard to find. There were female role models from the world of arts and entertainment; a few from politics (e.g. UK prime minister Margaret Thatcher and Gro Brundtland from Norway) or from the private sector and the world of science and technology (like ground-breaking biologist Rachel Carson or the first female US astronaut Sally Ride).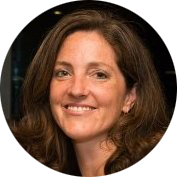 What a difference in 2021. The world of international finance is dominated by women leaders: Kristalina Georgieva at the helm of the IMF, Cristine Lagarde leading the European Central Bank, Ngozi Okonjo-Iweala as Director-General of the WTO and a record number of five female Ministers of Finance in G20 countries. At the end of 2020, 21 women functioned as the head of state or government in 193 countries around the world, according to the US-based Council on Foreign Relations. A friend recently noted that a whole generation of children has grown up in Germany without knowing the male version of the German word for 'Chancellor', as Ms. Merkel has been in charge since 2005. While there is still a long way to go before we reach gender equality in politics, finance or society overall, more women than ever are running for positions of power and higher office.
This International Women's Day is dedicated by UN Women to 'Women in Leadership'. As we celebrate women leaders, I want to focus on the dreamers, the innovators, the risk takers: entrepreneurs who demonstrate their business acumen and leadership every day. I can think of Omaira Saucedo from Bolivia-based IT-company tuGerente, who tells us she is overwhelmed by inquiries from female students when she encourages them to continue their profession or studies in science or technology. "The limits are only in your head", she tells them. And I think of Kawther Mouelhi, founder of a digital marketplace for Tunisian crafts and garments. She adapted her business model rapidly due to the COVID-19 crisis so she could continue to provide a source of income for the 70 women artisans she employs in one of Tunisia's poorest regions; she provided training to them in the manufacturing of protective clothing and masks for health care personnel.
In light of the leadership theme, We-Fi is celebrating International Women's Day by launching WE Champion, a series of video interviews of our Leadership Champions with former CNN Business News anchor Maggie Lake. The series aims to inspire women entrepreneurs, especially those facing the challenges from COVID-19. In their moving personal stories, the strength, optimism and humanity of these women leaders come through as they speak openly about the difficulties and setbacks many women encounter. World Bank Managing Director Mari Pangestu, for example, lists equal access to opportunities as key to her professional success and speaks fondly of her father encouraging her to pursue a degree in economics. Morocco-born entrepreneur and Leadership Champion Daniele Henkel tells her personal story of struggle and persistence, how she moved to Canada with little means and built a successful company from the ground up. Bangladeshi businesswoman and Member of Parliament Selima Ahmad chronicles how she was married at 16 and became a mother at 17 and despite this, put herself through school and later thrived as an entrepreneur.
So, on this International Women's Day, I want to salute their leadership as well the leadership of women entrepreneurs as they build and sustain their companies around the world. I would like to say to the entrepreneurs among us that while the road ahead might be winding and uncertain, please remember that I and many others admire your grit and perseverance.