All over the world, we are seeing the massive impact the coronavirus is having on small and medium-sized businesses, with women-led SMEs among the hardest hit.
During the inaugural WE Talks, organized by the Women Entrepreneurs Finance Initiative (We-Fi) and the 2X Challenge, development finance specialists, investors, and practitioners highlighted how a gender-sensitive response to the COVID crisis is essential to protect the gains of women entrepreneurs in recent years and ensure their businesses can survive this crisis.
Close to 200 people across the globe tuned into this webinar which aimed to share real-time experiences and best practices for supporting women-led SMEs. In case you missed this WE Talks, please see the key takeaways below. You can also watch the full recorded session here:
Inaugurating the WE Talks webinar series, host Wendy Teleki, Head of the We-Fi Secretariat, noted that the new series aims to learn from "real-time experiences from experts as we cannot wait for lengthy studies in this time of crisis". She emphasized the imminence of the crisis for women entrepreneurs and the compounded challenges they face during the COVID-19 crisis.  "Women shoulder the lion's share of the care burden for the elderly, at-risk family members and children," she noted.  "They also face a heightened risk of domestic violence. On top of that, women-led SMEs are more at risk as they often operate in service and trade sectors and typically in lower margin industries." Teleki cited the results of a recent survey by WEConnect International in which 87 percent of the surveyed women-owned businesses said they were negatively impacted by the COVID pandemic.
Co-moderator Anne-Marie Levesque, Head of Gender and Impact at Canada's FinDev and chair of the 2X Challenge working group, outlined that access to finance for women entrepreneurs, which was already a big issue before the crisis, might become scarcer due to the pandemic. "In response to the current crisis, Development Finance institutions gathered in the 2X Challenge have come up with guidelines for our partners to support women in the COVID-19 crisis, and also to improve resilience for future shocks from a gender perspective". Levesque emphasized that a priority is to increase liquidity and working capital to intermediaries, such as microfinance institutions and SME lenders, that cater to women entrepreneurs. Another big focus is on non-financial capacity-building assistance to women-led SMEs to better manage these extraordinary circumstances.
Download the speakers' presentations here:
Jennifer Buckley, Senior Managing Director of global SME investment fund SEAF,  explained how its COVID-19 Global Emergency SME Loan Facility is supporting women entrepreneurs in countries such as The Philippines, Indonesia, Kenya, Georgia, Vietnam, Albania, Kosovo and Serbia. "The COVID facility is a $25 million debt fund in partnership with DFC, with a potential to grow to a $60 million fund, which can be used for women-led SMEs following the 2X Challenge criteria." Buckley emphasized that non-financial assistance in the form of peer learning and mentoring is essential. As lockdown measures vary from area to area, SMEs can learn from different response mechanisms. "Entrepreneurs need more than money. Being an entrepreneur can be a lonely endeavor in the best of times. Connecting entrepreneurs with each other can provide a much-needed sense of community." The SEAF speaker added that being based in East Asia provided some early lessons as the COVID-crisis has impacted the region already for four months.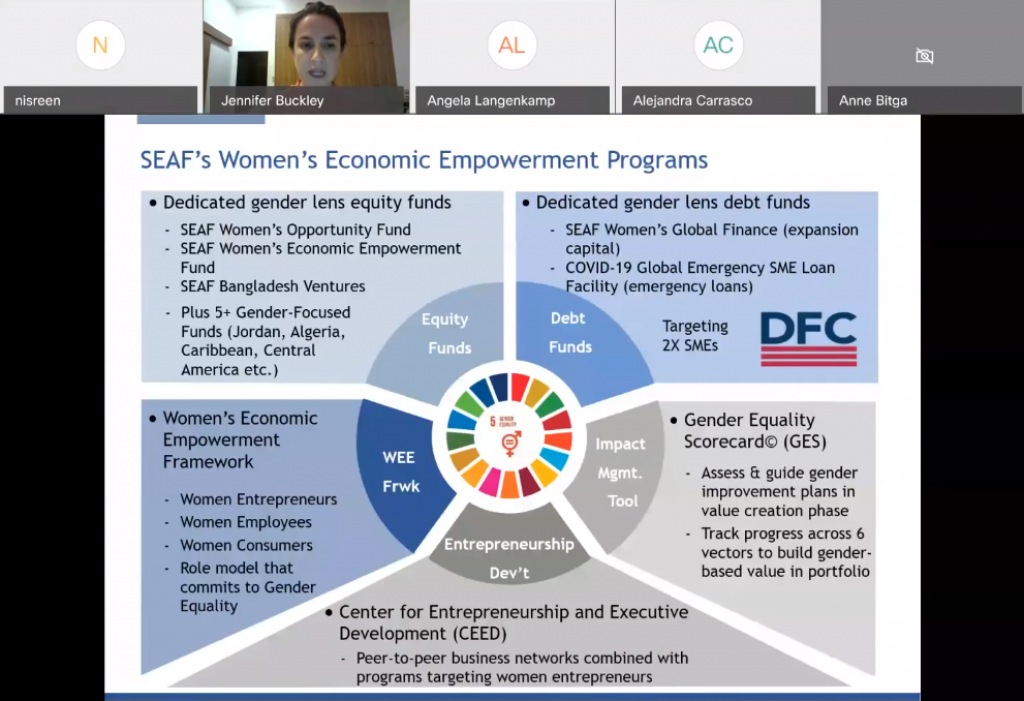 Caren Grown, Senior Director for Gender at the World Bank Group, gave a comprehensive overview how the coronavirus crisis is disproportionally affecting women and girls in terms of economic conditions, education, and social and behavioral circumstances. She detailed how the World Bank is working with its public and private sector clients to rapidly provide support to SMEs during the crisis. "The public sector can do a lot to help female-led businesses. Social protection measures and microfinance solutions are critical for informal and small firms. Small enterprises can benefit from grants, lower borrowing rates, cost reductions by suspension or reprofiling of tax and social security requirements, and accelerated payments from the public sector." On the private sector side, larger corporations can help women-led SMEs through supplier finance and credit guarantees, Grown added. "Banks can increase emergency loans, defer interest payments or waive certain fees, and so can credit card companies." Other examples of SME-support measures by the financial sector were the scaling up of online support and customer service by banks and the increase in digital payments and internet banking.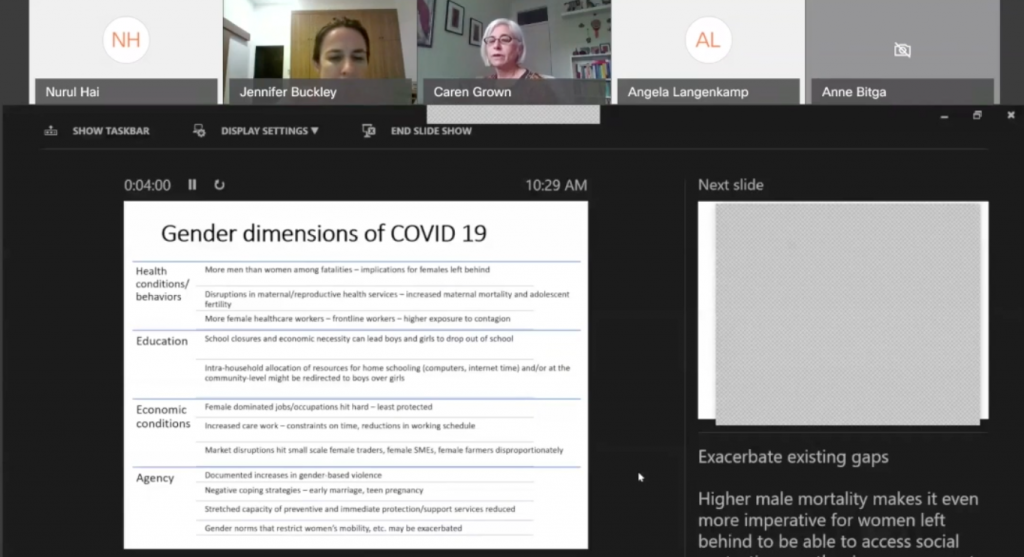 After two rich presentations, two commentators provided their perspectives and discussed similarities and differences. First, Jessica Espinoza, Global Gender Finance Lead of the German Development Finance institution DEG highlighted cases from Africa and Latin America. "Several of our partner banks have been able to deploy rapid responses to WSMEs by providing liquidity for salaries and fixed costs like rent and utilities. For example, one of our banks in Mexico is actively supporting women entrepreneurs in the tourism sector and other services who have lost their income. Another partner of ours in Nigeria is helping WSMEs in non-financial aspects, with advisory services and training in digital finance." Espinoza emphasized that these "responses cannot be taken for granted". "DFIs who are working with financial intermediaries need to be explicit that women need to be at the center of the response mechanisms."
Stephanie Oueda Cruz, Head of Gender and Diversity of IDB Invest focused on Latin America and underlined that the region is home to 1.5 million women-led SMEs. These WSMEs are over-represented in lower productivity and informal sectors which makes women very vulnerable. "All of our public policy work in response to the crisis needs to have a special gender lens", she emphasized. Her organization supported manufacturers which changed production lines to manufacture protective gear tor emergency response needs. "We are leveraging our finance in terms of short-term liquidity for existing and new clients and restructuring our loan programs. We are also trying to increase the share of WSMEs in public supply chains." Oueda Cruz mentioned supply chain financing in the private sector as an important instrument to support entrepreneurs. "For example, we just launched a program in Mexico which will support 30,000 SMEs through supply chain financing and reverse chain financing. This will provide much-need liquidity to women-led SMEs."
In the Q&A session with the audience details were asked how the public sector can work in difficult and challenging countries, the importance of capacity building and non-financial support, and how to prevent women-led SMEs from worsening their debt levels while continuing afloat.
Wendy Teleki concluded the webinar by stressing the need for public sector as well as private sector actions and a continuation of gender-centric responses in not only the emergency phase but also the subsequent recovery phase.
We-Fi will continue its webinar series on May 19th (09:00 – 10:00 AM EST) with a session about the acceleration to digital finance for WSMEs in response to the COVID-19 crisis. This webinar will be in collaboration with the Financial Alliance for Women.