News | September 25, 2018
The inaugural meeting of We-Fi's Leadership Champions was held in New York on September 25, 2018 on the margins of UNGA opening week. The event was organized by the We-Fi Secretariat in partnership with the United Arab Emirates Government (one of the founding donors to We-Fi), and it was well attended and impactful. It brought together the Leadership Champions with other high-level representatives from We-Fi sponsoring and recipient countries; We-Fi Governing Committee members; other We-Fi stakeholders including the MDBs, UN Women, W20, ONE Campaign, and Vital Voices; and other key influencers.
The Leadership Champions were nominated by We-Fi Contributors with the goal of mobilizing global support for We-Fi's objectives, namely, women's entrepreneurship and economic empowerment. The Champions represent diverse fields in their respective countries from politics and policy making to finance, business, entrepreneurship, and media.
The event aimed to: (1) boost awareness of We-Fi and its goal of women's economic empowerment through entrepreneurship; (2) provide Leadership Champions and We-Fi partners an opportunity to convey their key messages and perspectives on women's economic empowerment and entrepreneurship, with a view to informing We-Fi's future direction; and (3) facilitate knowledge sharing among We-Fi stakeholders and influencers.
The first segment featured lightning talks by two women entrepreneurs – Ms. Jamila Ben Baba from Mali and Dr. Wandee Khunchornyakong Juljarern from Thailand – who shared their personal journeys overcoming obstacles to achieve entrepreneurial success, and how this in turn helped them become economically empowered.
In 2013, amid Mali's civil war, Ms. Jamila Ben Baba started Laham Industries, the first private slaughterhouse in the West-African sub-region. She described how difficult it was for women to work in Mali, where she always had to have a man with her to negotiate cattle prices. Ms. Ben Baba discussed the program she was working on with the World Bank and IFC to operate small ranches around her slaughterhouse. "This will allow us to control the supply chain and have traceability," she said.
As Chairperson and CEO of SPGC Public Company limited, Dr. Wandee Khunchornyakong Juljarern raised $8 million to launch Thailand's first private solar energy company. With support from the IFC Clean Technology Fund blended with local financing, she built 36 solar farms, creating 20,000 jobs during construction and 1,000 permanent jobs. 'Most importantly," she said, "we helped to stop climate change by reducing 200,000 tons of CO2 emissions every year."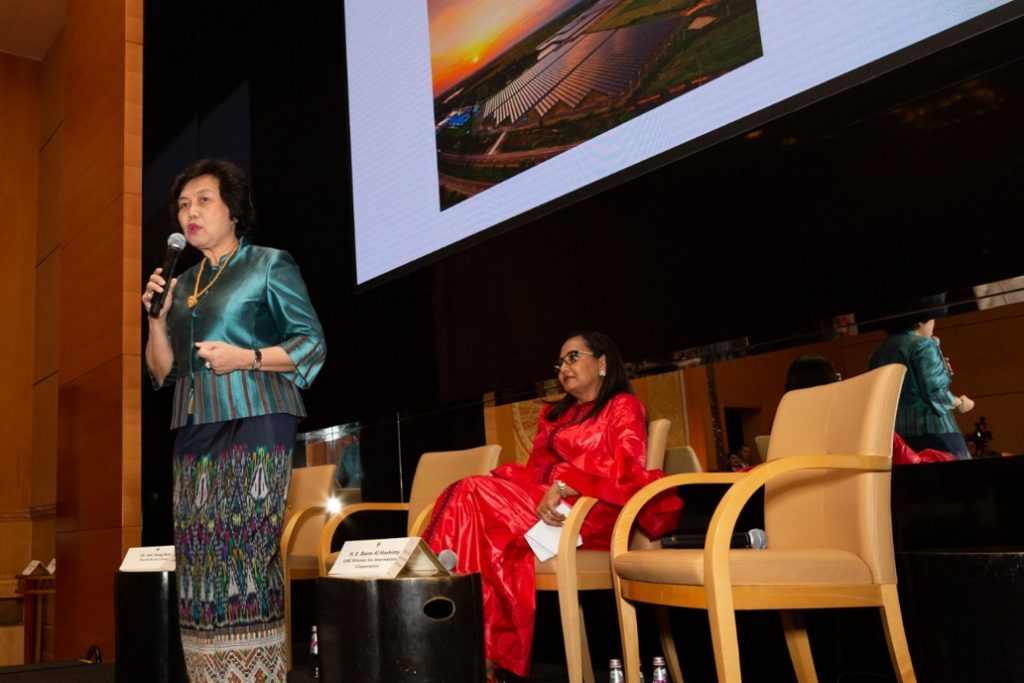 The second segment featured a fireside chat between World Bank Group President Dr. Jim Yong Kim, Advisor to the President of the United States Ms. Ivanka Trump, UAE Minister for International Cooperation H.E. Reem Al Hashimy, and the UN Secretary-General's Special Advocate for Inclusive Finance for Development H.M Queen Máxima of the Netherlands, focusing on the top priorities for boosting women's entrepreneurship and economic empowerment globally. The panelists discussed some of the specific challenges that women-owned businesses face, drawing on the most recent Global FINDEX data.
In his introductory remarks, Dr. Kim underscored how quickly We-Fi had come together since the idea first germinated in April 2017. Less than six months after it was established, We-Fi made its first round of funding allocations of $120 million, expected to leverage $1.6 billion in additional resources and with 58 percent going towards projects in the poorest and most fragile countries. He asked the panelists to reflect on how women's entrepreneurship could boost economic empowerment, what lessons they could share from their own experience, and how We-Fi could help.
Ms. Trump emphasized that investing in women was a priority in terms of global security, prosperity, and peace. She noted that women around the world were one of the greatest under-tapped resources, and one of the areas where this was being seen most dramatically was in entrepreneurship – particularly among small and medium-sized enterprises (SMEs). She pointed to evidence on the high returns on investing in women and the benefits generated not just for families but for communities and societies at large. She noted the difficulties that women-led SMEs around the worked faced in accessing the capital they needed to grow into larger businesses, which could produce multiplier effects in terms of economic empowerment, growth and prosperity. Beyond capital, Ms. Trump noted the critical importance of vocational education and skills training for jobs, mentorship and access to networks, as well as creating an enabling environment for women entrepreneurs. She mentioned that early next year the White House would be launching an initiative focused around these key pillars.
Minister Al Hashimy called on government leaders to help create environments in which women and men could flourish equally. While the focus on access was important, quality was just as important, whether it was the quality of education, vocational training, or mentorship. She noted the role that technology could play in ensuring access to quality services around the world and in replicating the experiences of communities from one part of the world in another. Young entrepreneurs bringing their ideas to the private sector were key to the evolution of quality standards through a process of knowledge sharing across countries.
H.M Queen Máxima of the Netherlands reminded the audience of the central role that MSMEs play in job creation – particularly for women. Entrepreneurship is often the only option that women have to make a living. Access to finance for women entrepreneurs is key, and technology plays a role in expanding that access – not only by breaking down biases, but also by addressing structural barriers like access to property rights. Pointing to some challenges, as women tend to be less digitally connected than men, she noted that, in some instances, digital financial services can lead to a widening of the gender gap in financial inclusion. It is therefore very important to close the gender digital divide and to enhance women's digital literacy. Further, she noted the importance of ensuring that products cater to the particular needs of women. And finally, she made a strong plea for gender-disaggregated data for both the public and private sectors to inform policymaking and product and services delivery for women.
The third segment included three short panel discussions featuring the Leadership Champions and other key We-Fi partners. The panels focused on transformative actions required in the key areas covered by We-Fi:
Access to Finance:  This panel included Leadership Champions Ms. Anne Finucane, Vice Chairman, Bank of America & Chairman of the Board, Bank of America Merrill Lynch Europe (United States); Ms. Marilou van Golstein Brouwers, Chair of the Management Board, Triodos Investment Management BV (Netherlands); and H.R.H. Princess Reema bint Bandar bin Sultan bin Abdulaziz Al Saud (Saudi Arabia). It was moderated by Mr. Geoffrey Okamoto, Assistant Secretary for International Finance and Development (Acting), U.S. Treasury (We-Fi Governing Committee Chair). The panel discussed transformative actions required to address the barriers that women entrepreneurs face in accessing finance to start or grow their businesses, and how We-Fi could help.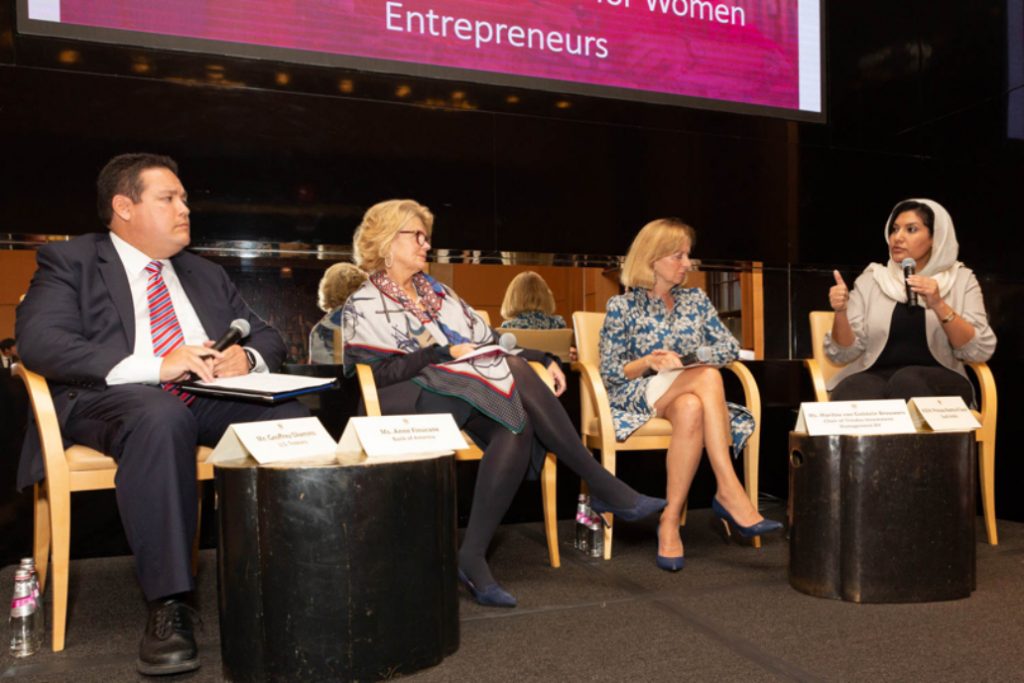 Mentoring: This panel included Leadership Champion Oksana Pushkina, Deputy Vice-Chair, Committee on Family, Women and Children's issues, The State Duma (Russian Federation); and Ms. Reema Nanavaty, General Secretary, Self Employed Women's Association (SEWA) (India). It was moderated by Leadership Champion Ms. Miky (Mie Kyung) Lee, Vice Chairwoman, CJ Group (Republic of Korea). The panel discussed the role of mentoring in helping women entrepreneurs succeed, various models of mentoring, and how We-Fi could contribute.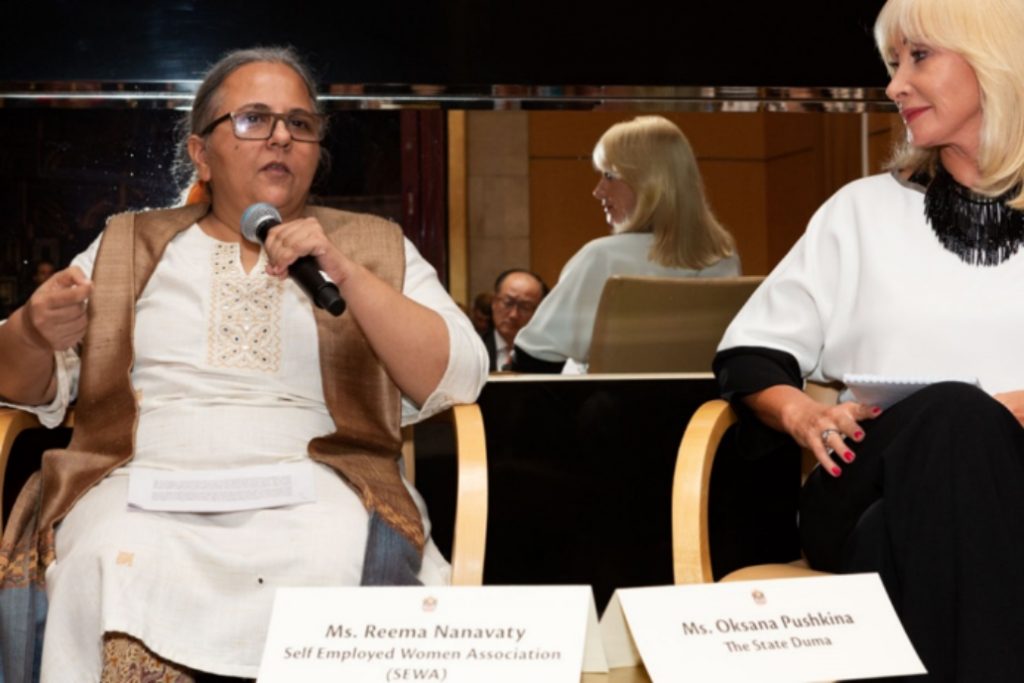 Market Access: This panel included Leadership Champions Daniele Henkel, President, Danièle Henkel Inc. (Canada), H.E. Susi Pudjiastuti, Minister of Marine Affairs and Fisheries, (Republic of Indonesia) and Ms. Ma Lu, Executive Vice President, China Resources Group (People's Republic of China), as well as We-Fi Observer Ms. Susana Balbo, W20 Chair (Argentina). Moderated by Elizabeth Vazquez, President, CEO, and Co-Founder, WEConnect International, the panel discussed key actions that governments and private corporations could take to improve market access for women entrepreneurs and to increase their participation in supply chains. One suggestion was to develop a "We-Fipedia" to capture and disseminate success stories.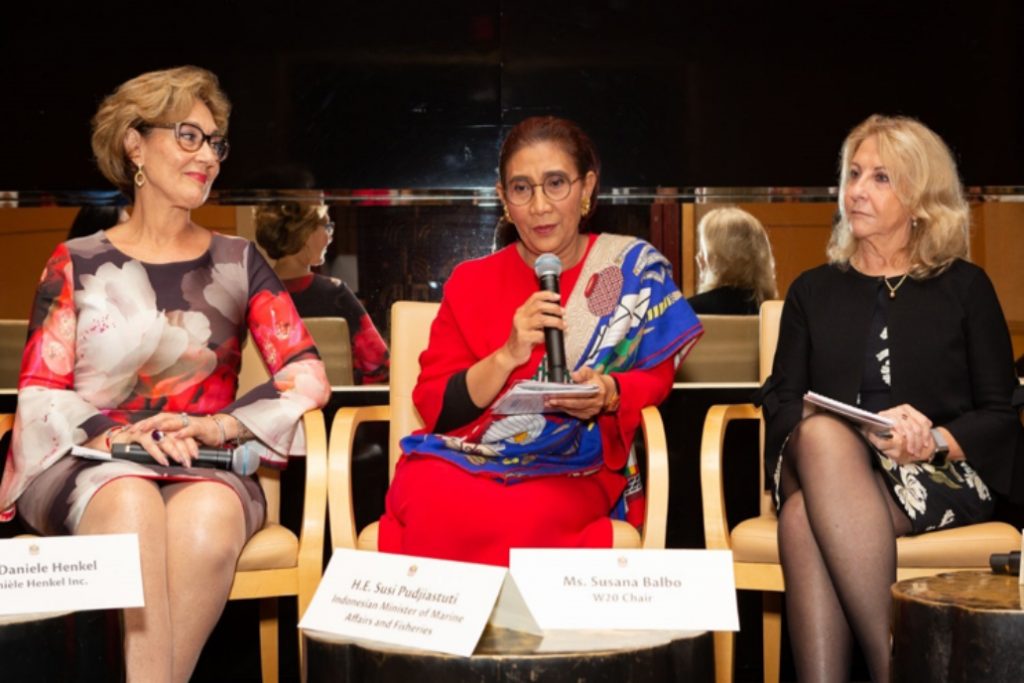 World Bank Vice President for Human Development Ms. Annette Dixon delivered the closing remarks. She described meeting women around the world who'd displayed real grit by developing businesses in incredibly tough environments. These were the women who really needed We-Fi to deliver.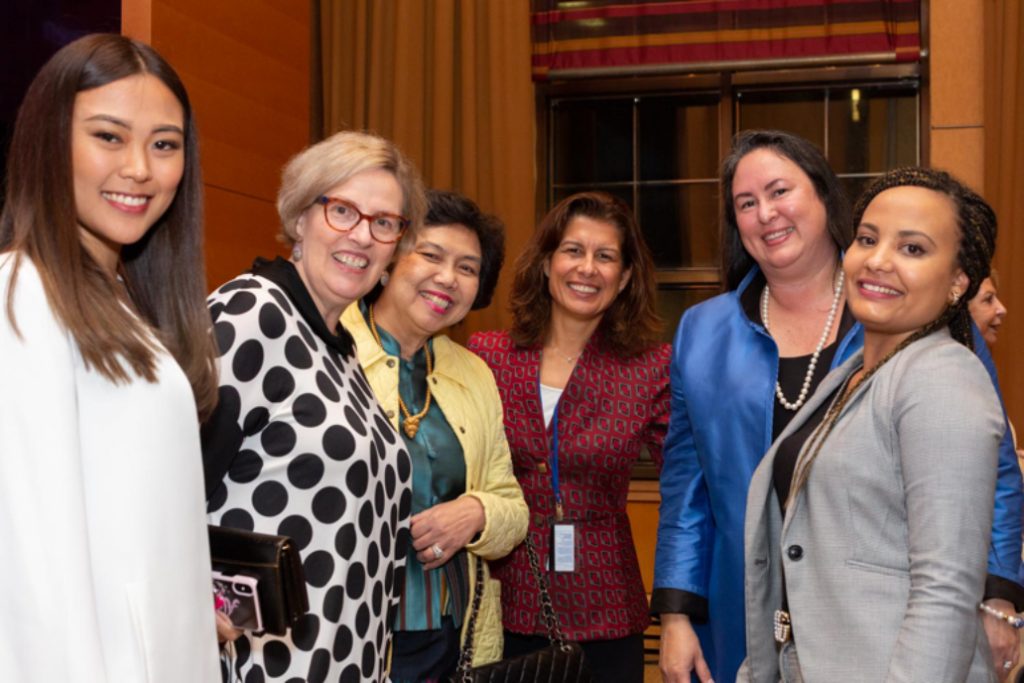 The full event program is available for download here.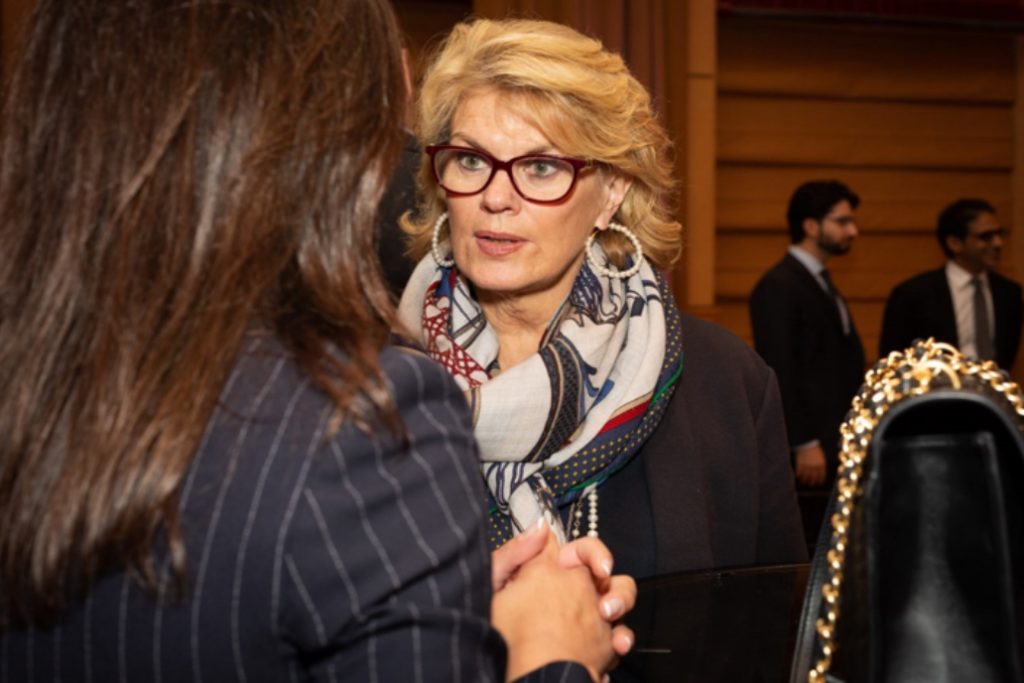 Ms. Anne Finucane, Vice Chairman, Bank of America & Chairman of the Board, Bank of America Merrill Lynch Europe (We-Fi Leadership Champion for the United States)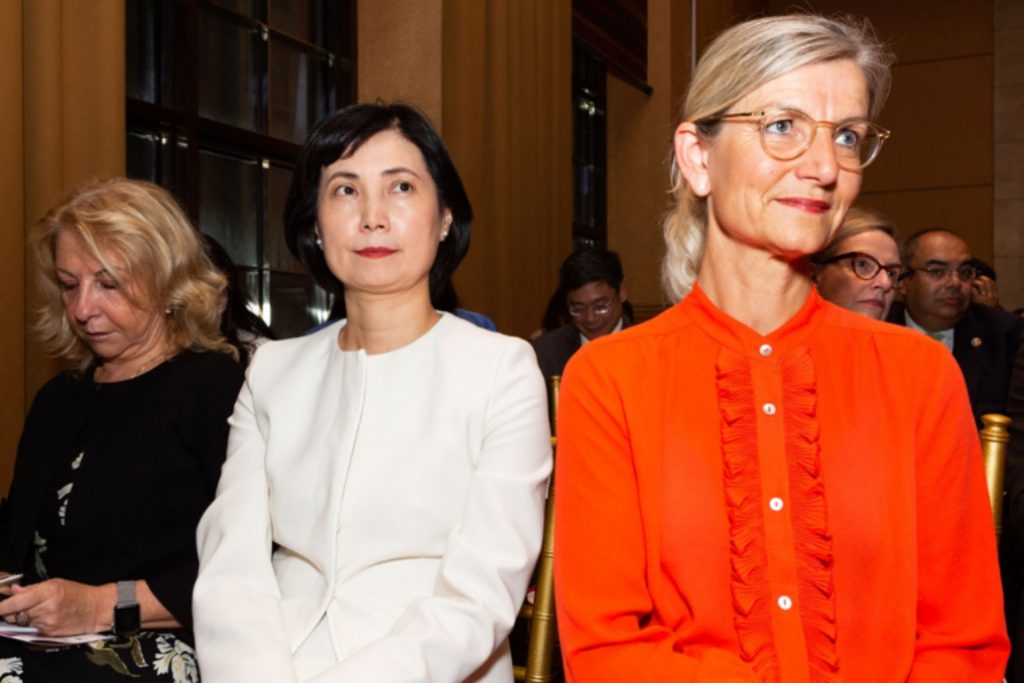 Ms. Ma Lu, Executive Vice President, China Resources Group (We-Fi Leaderhip Champion for the People's Republic of China) and H.E. Ulla Tornaes, Minister for Development Cooperation (We-Fi Leadership Champion for Denmark)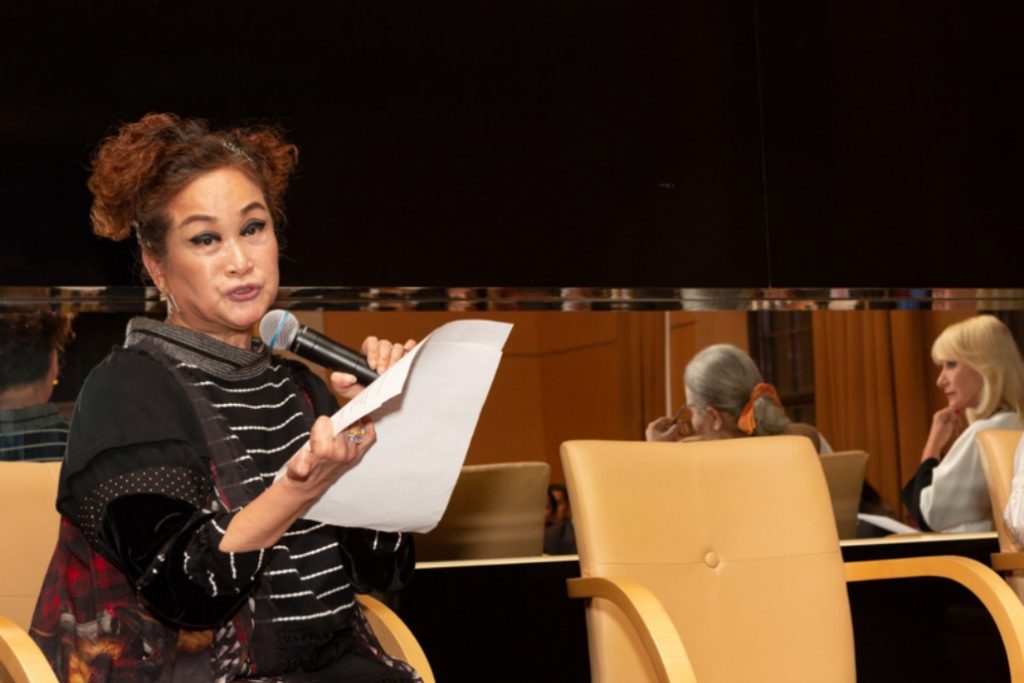 Ms. Miky (Mie Kyung) Lee, Vice Chairwoman, CJ Group (We-Fi Leadership Champion for the Republic of Korea)