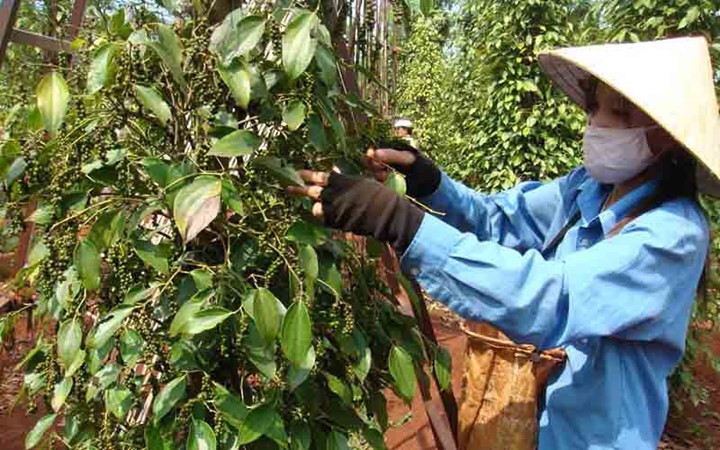 Context
Vietnam is the world's largest pepper exporter, with over 50 percent of the global market share. However, Vietnam's value-add in the sector is low, as the country exports raw materials as opposed to processed products. Moreover, in 2017 and 2018, the excessive use of chemicals and pesticides in Vietnam led to an oversupply of poor-quality pepper, pushing global pepper prices to historically low levels.
High volumes of global supply, coupled with growing competitive pressure and poor technical know-how have made it even more difficult for local farmers to compete in the global market and are tremendously slowing down Vietnam's ability to extract high value from export.
Pepper is predominantly grown by smallholders who are mostly unaware of evolving market dynamics. Women comprise 80% of the labor force in pepper production. Like other smallholders, pepper farmers in Vietnam face several challenges to meet the social, environmental, and economic sustainability of production. These challenges include lack of knowledge of sustainable farming practices and standards, poor quality harvest evident in high chemical residue levels, the lack of uniformity in the pepper crop, and inadequate extension support for farmer training and capacity building. There is also a lack of focus on women farmers and a lack of farmer-friendly diagnostic tools for certification.
Joining Forces
This IFC  project, supported by We-Fi, backs select suppliers and farmers in their supply chains in Vietnam through a partnership with McCormick & Co., one of the leading global manufacturers of spices, herbs, and flavorings for retail, commercial and industrial markets. US-based McCormick will work with local suppliers to improve farming practices in order to build a sustainable, traceable, certified, and quality-compliant pepper supply chain in Vietnam by 2025.
IFC-led activities will assist McCormick and its suppliers in establishing systems, testing and documenting improved production practices, applying integrated pest management (IPM), and tracing these changed patterns to support the certification of pepper farmers as a way for McCormick to reach its goal of building a 100 percent sustainable pepper supply chain in Vietnam.
We-Fi's contribution will enable the project to design activities specifically for women farmers, with the intention to increase their knowledge in pepper farming and enable them to better manage their farming operations.
Technical training will be organized at times that allow for maximum participation of women, taking into consideration their domestic responsibilities. Childcare will be provided during trainings.
Impact
The project will reach 1,700 farmers, of whom 30 percent are women, and will work with two suppliers of McCormick (PEARL, and Vietspice/Phuc Sinh Corp.) in the Dak Nong area. Trainings provided directly to women, including technical trainings on the use of agrochemicals, are expected to lead to an increase in women's participation in farming.
This partnership has significant potential in helping Vietnam pepper farmers, particularly women-owned enterprises, to achieve social, environmental, and economic sustainability of production.
Following this initial pilot, a review of implementation will determine expansion with three more suppliers and additional budget, to reach up to 10,000 farmers over four years.
Photo credit: Brazspice Spice Trade