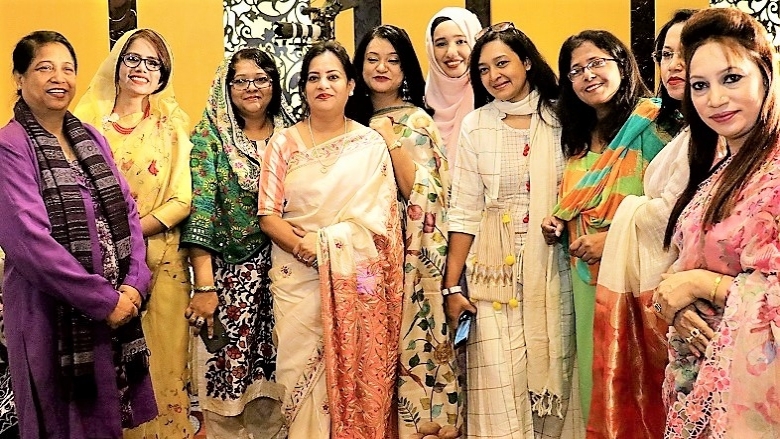 The Challenge
Women entrepreneurs in Bangladesh face serious barriers to finance and markets. Women-led or owned enterprises represent 60 percent of the country's $2.8 billion financing gap in the micro, small, and medium enterprise sector. Lack of access to collateral is one of the key hindrances. Additionally, despite efforts by corporates to source from WSMEs, women's participation in corporate value chains remains low due women's limited access to networks, connections, and business skills, as well as cultural norms that hinder women's participation in the economy.
Joining Forces
In Bangladesh, just like in other emerging markets, women-led entrepreneurship has the potential to create jobs and grow the economy. We-Fi and the World Bank are helping untap this potential by improving access to markets and finance for WSMEs in the country. With We-Fi funding of $2.7 million, the World Bank is implementing an advisory project that includes the following main components:
Fostering WSMEs participation in corporate supply chains by advocating for supplier diversity among local corporates and building the capacity of WSMEs.
Building a database that links WSMEs with corporates and financial institutions.
Supporting an enabling environment to overcome information asymmetries in WSME lending.
The first component will help scale a WB successful pilot collaboration with WeConnect International that is creating sustainable market linkages between women-owned businesses and local and multinational corporations in Bangladesh.
To ensure long-term sustainability and scale, the project is implemented in partnership with the Ministry of Finance, the Ministry of Commerce, Bangladesh's Small and Medium Enterprise Foundation, North South University in Dhaka, and others.
Impact 
In partnership with WeConnect International, the World Bank  has made progress engaging with corporates that will advocate for supplier diversity in the private sector; linking WSMEs with corporate procurement and supply chain professionals; and building the capacity of WSMEs to enter corporate value chains.
The World Bank and WeConnect International created the Supplier Diversity Advisory Committee, which brings together early movers in supplier diversity to share knowledge on how to increase business linkages with WSMEs, recruit new corporations to join the initiative, and set diversity goals for the inclusion of WSMEs in corporate value chains. The Committee was launched with representatives from local and international corporations and meets periodically. Additionally, 16 corporations signed letters pledging to source more goods and services from women-owned businesses.
In 2020, World Bank and WeConnect International held the Corporate Connect: Strengthening Market Access Conference in Dhaka, which gathered policymakers, business leaders, and women business owners to discuss best practices that increase WSMEs participation in value chains. The conference included meet-the-buyer sessions and a pitch competition that facilitated 250 new business connections between WSMEs and corporates.
By the end of the project, 1,200 WSMEs will benefit from training programs focused on strengthening their capacity to articulate their business strategies, negotiate with buyers, and pitch to investors. Other goals include the creation of a database linking WSMEs and corporations jointly with the SME Foundation, and establishing a network of at least 40 multinational corporations that make specific commitments to source from WSMEs.
Meet the beneficiaries
Kohinoor Yeasmin, founder of handbag manufacturing enterprise Tarango, beneficiary of WB project in Bangladesh.