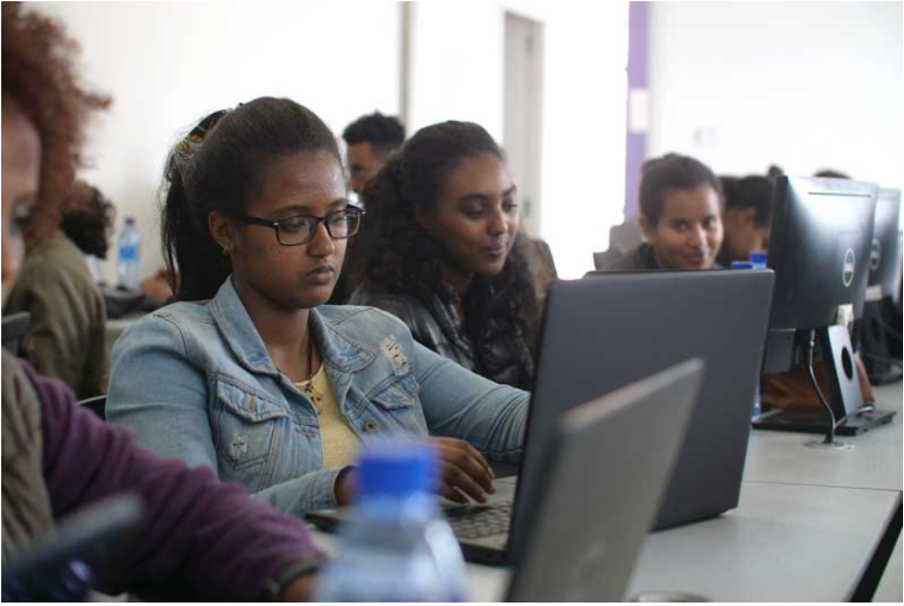 The Challenge
Women in Ethiopia are significantly under-represented in the field of technology, both in terms of the number of women-led businesses, and in terms of gender diversity in tech-oriented SMEs.
Educational opportunities in ICT have the potential to improve female representation in the sector. Moreover, with entrepreneurship support structures in place–including access to business skills, finance, networks, and mentors–women with tech skills are more likely to pursue entrepreneurial ventures.
Joining Forces
IFC and We-FI have partnered to bridge the opportunity gap for women in the technology and innovation space in Ethiopia. The program, known as Digital Gender Ethiopia, aims to increase the pipeline of female digital entrepreneurs in Ethiopia, by providing access to training and business support services.
Through the program, Gebeya, a Pan African education technology and online job placement company, will train 250 women software developers. One cohort of women will be partially financed through a need-based scholarship program. Gebeya's training can be differentiated from other players in the market through its blended curriculum, which includes basic and advanced programming skills, as well as real-world job-readiness skills.
Additionally, Gebeya will incubate twenty high-potential aspiring start-ups. Each awardee will receive USD 10,000 in seed funding to implement their tech businesses. A follow-up phase of the program will provide participants with mentoring services from successful digital entrepreneurs.
Impact
The program is expected to develop a pipeline of women equipped with tech skills to meet the market's dynamic needs. Participants will be linked with global tech companies that offer employment opportunities for youth in Ethiopia.
The program will additionally catalyze the emergence of female digital entrepreneurs, by providing high-potential program participants with technical, strategic, and financial support to set up and scale their businesses.
Overall, the program will improve opportunities for women to participate and thrive in the digital space, which has become increasingly critical in the aftermath of the COVID-19 pandemic.
More Information: https://www.bloomberg.com/press-releases/2020-09-15/ifc-funds-gebeya-inc-to-train-250-women-developers-in-ethiopia