The two-day We-Fi MENA Regional Summit in Dubai concluded on February 17th, spurring action to support women entrepreneurs in the Middle East and North Africa.  Global leaders, private and public sector partner and entrepreneurs from around the region discussed new steps to lower policy and regulatory barriers, pave the way to accelerate bank lending to women, launch innovative partnerships with the private sector, and provide training and networking opportunities for invited women entrepreneurs from the region.
Rallying support for women entrepreneurs during opening session
The We-Fi summit, organized in collaboration with the Dubai Women Establishment and supported by the government of the United Arab Emirates, was held on the sidelines of the Global Women's Forum Dubai which attracted over 3000 participants from 87 countries, including about 100 speakers, over the course of two days. During the opening session, World Bank Group President David Malpass, IMF Managing Director Kristalina Georgieva, and Advisor to the President of the United States Ivanka Trump emphasized the overwhelming advantages of full economic participation by women in the region and the need to support women entrepreneurship.
"Starting and growing a business is a powerful tool for women to overcome poverty and build better lives for themselves, their families, and their communities", said World Bank Group President Malpass.  He emphasized the need to have laws, policies, and regulations in place that empower women to succeed in the economy. There also needs to be broader access to finance and markets for women entrepreneurs, he added. Please read his full speech here.
President Malpass, as well as IMF- Managing Director Georgieva and Special Advisor Trump gave a shout-out to the women entrepreneurs in the audience who were selected and invited to participate in the We-Fi Summit. In turn, many of them have shared their message of inspiration for other aspiring and existing entrepreneurs in the region.
Plenary session highlights new initiatives and inspiring stories
The We-Fi-led plenary session on the first day of the conference was kicked off by keynote remarks by Sérgio Pimenta, IFC Regional Vice-President for Africa and the Middle East. He pointed out the lack of access to finance, markets and networks and capacity-building many women entrepreneurs in developing economies have to overcome. "In a rapidly changing environment, new innovative solutions are required to crowd in more partners and more financing", said IFC Vice-President Pimenta. He highlighted a new partnership by the World Bank and UPS Corporate to help women entrepreneurs in MENA increase sales through more efficient shipping with e-commerce platforms.  While at the summit, IFC, launched the ScaleX program, which was supported by We-Fi as well. This program will incentivize emerging markets accelerators to provide more start-up financing for women entrepreneurs.
Subsequently, a plenary discussion led by Sky News Business anchor Lubna Bouza, featured initiatives of the public and private sectors in supporting female entrepreneurs in the region and resulted in a lively discussion emphasizing the key role women can play in entrepreneurship, job creation and economic growth in the region. Panelists included:  Heike Harmgart, Managing Director for the Southern and Eastern Mediterranean at the European Bank for Reconstruction and Development; Nadia Al Saeed, General Manager of Bank al Etihad; Rania Al-Mashat, Minister of International Cooperation, Egypt; Laura Lane, President of Global Public Affairs at UPS; and Michael Okoroafor, Vice President of Global Sustainability & Packaging Innovation at McCormick.
The messages of the plenary session were driven home by personal stories of two leading women in business. Egypt-based Dina El-Shenoufy, Chief Investment Officer of Flat6Labs, presented three inspiring and innovative women entrepreneurs she has met through her organization's work in supporting entrepreneurship in the region. We-Fi Leadership Champion Daniele Henkel, who hails from Morocco, told her moving story about overcoming personal hardship to become a successful businesswoman in Canada, and ended with a message of encouragement for all women in the audience.
Ministerial Roundtable and workshop zoom in on regulatory reforms
An important element of the first day of the We-Fi Summit was a ministerial roundtable led by the World Bank, IMF, and the governments of the UAE and US, about policy and legislative reforms necessary in the region to break down the economic barriers holding back women in the region. According to the World Bank study 'Women, Business and the Law', over the past two years, 40 economies enacted 62 laws to advance gender equality.  While MENA has historically had the lowest average score on the report's index, this year, the region made the most progress. Jordan, Lebanon, Algeria and Bahrain made a number of reforms, and the UAE and Saudi Arabia, in particular, were the top reformers globally. Ministers, policy makers and international organizations zoomed in on how to keep the positive momentum going and what countries in the region can learn from one another.
In a separate workshop the following day titled 'Business, Women, & The Law' participants took part in a deep-dive discussion on how women are affected by legal gender discrimination at every stage of their working lives and how reforms can be accelerated.
Day 2: Let's get to work
While the opening ceremony and plenary session on the first day were dedicated to high-level speeches and public support for We-Fi's work in empowering women entrepreneurs, the second day of the conference was dedicated to working sessions focusing on action and learning.  This comprised of several workshops tailored to entrepreneurs specifically including a hands-on learning about "Seven drivers of growth" by EY-presenter Peter Bos, and 'How to get funding' led by the IFC.
Driven by various industry experts and thought leaders, other workshops and break-out sessions offered participants an opportunity to learn from a wide range of topics, including tracking finance; leveraging e-commerce; growing sales; value chain partnerships; and support for female business owners in conflict-torn regions. The sessions also discussed ways to encourage women business leaders by improving access to capital and combating legal discrimination against female entrepreneurs.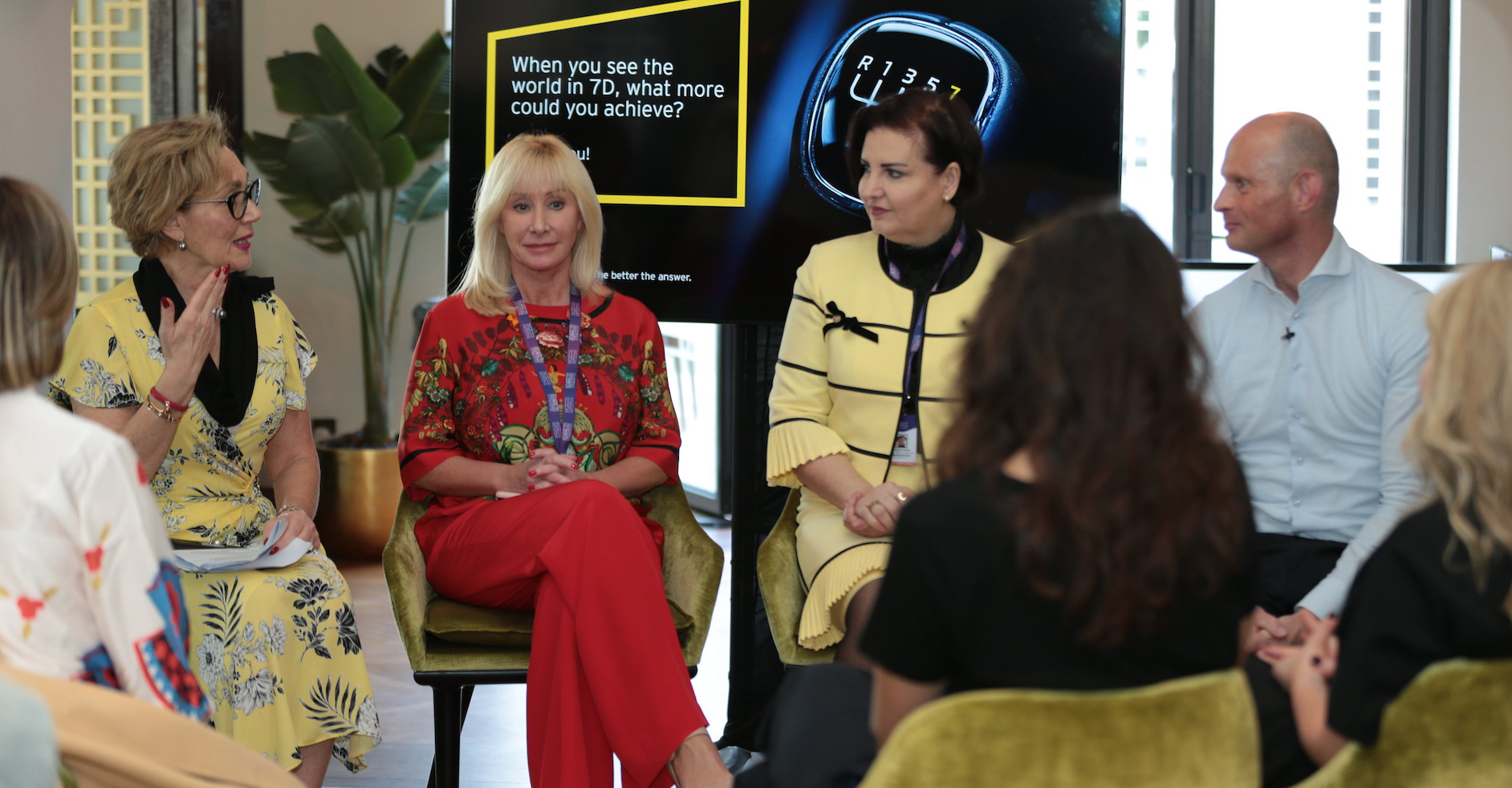 WE Finance Challenge: data to measure progress
A workshop to assess how to get more banks to track and expand their lending to women was held on the second day and attended by the Financial Alliance for Women, the Alliance for Financial Inclusion, Data2X, We-Fi's Implementing Partners, the IMF, the W20, Royal Bank of Scotland, Central Bank of Egypt, the SME Finance Forum, several We-Fi donors and the We-Fi Secretariat.  The workshop discussed options to more rapidly and systematically scale up the level of financing to women-led SMEs by significantly expanding the number of financial institutions that are tracking, and therefore can receive investments and intentionally grow their lending to WSMEs.
Access to Markets: from Value Chains to e-Commerce
The workshop titled 'Value Chain Partnership', brought together large corporates, financial service providers, development finance institutions and NGOs to explore ways to expand the number of women-led businesses engaged in global value chains. The session, organized by EBRD, IFC, and World Bank, discussed how partnerships can be built to solve multifaceted challenges of getting women into value chains – given that their participation represents only 1%.
Another workshop titled 'E-Commerce Clinic' offered entrepreneurs key insights and skills training on how they can expand their market reach and grow sales. The session reviewed the selling requirements for some of the active e-commerce platforms in the MENA region and provided tips on online marketing, order fulfillment, customer care and how to manage their relationships and accounts across different platforms.
The topic of e-commerce was also central in a well-attended session at the Entrepreneurs Hub, moderated by Komal Mohindra and Meriem Slimaine of the World Bank Group with the participation of women entrepreneurs Hana Guellati, founder of Ma Box in Algeria; Yasmine El Mehairy, founder of Coushies in Egypt; and Lara Shahin, founder of Jeroun in Jordan. The discussion touched upon the power of e-commerce platforms to alleviate key challenges facing female entrepreneurs in MENA, including accessibility, exposure and funding.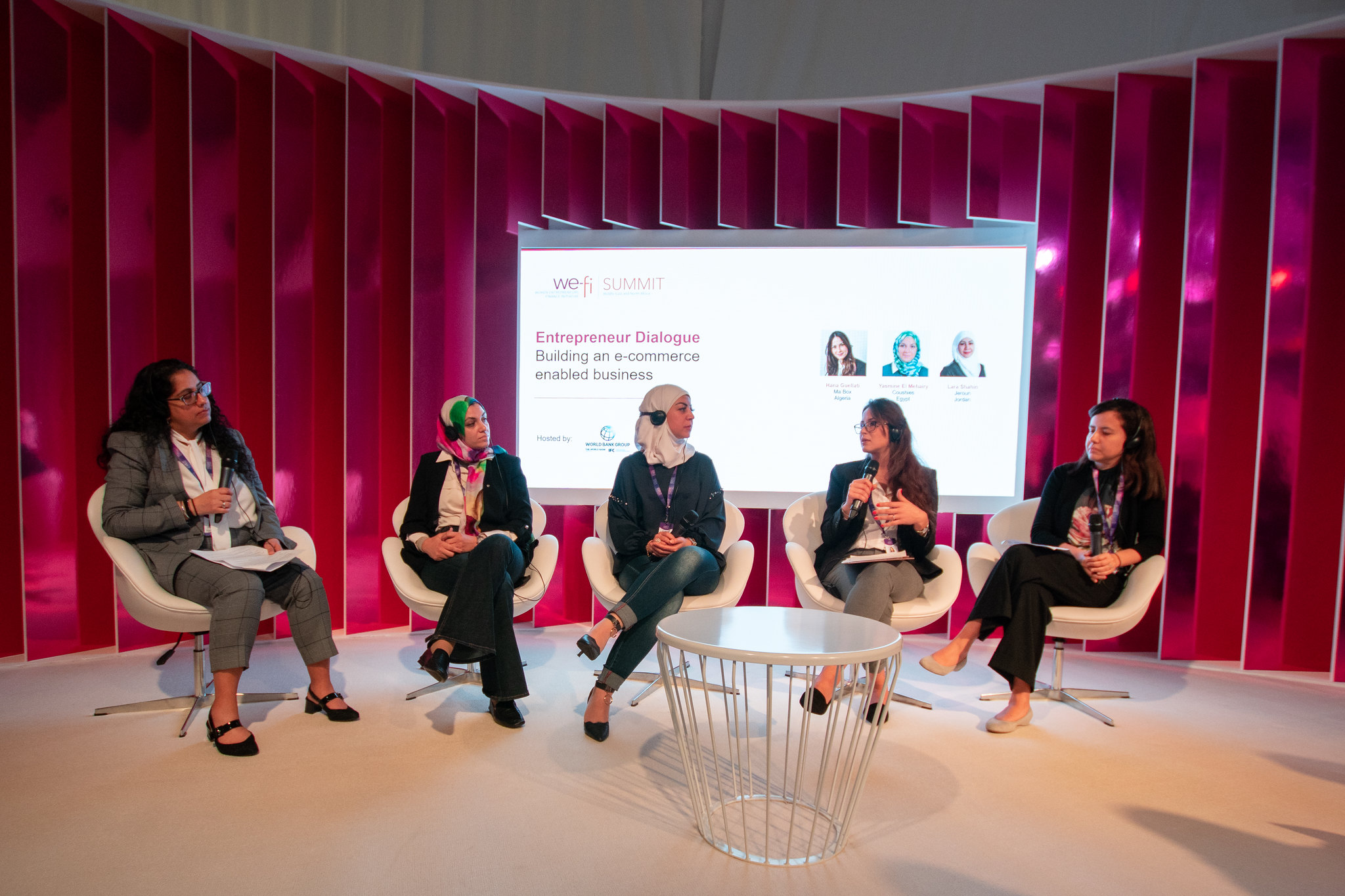 Due in large part to the lack of trust associated with e-commerce in the region, participants stressed the importance of social media channels – not only for marketing purposes but as a sales platform too. "Ordering through social media is king. 75% of our sales are made through Instagram, so we've developed standard operating practices to convert social media inquiries to purchases," stated Yasmine El Mehairy.
The participants also voiced their concerns with global e-commerce platforms such as Amazon and Etsy, which often require vendors to set up bank accounts abroad in order to receive payments.
On the flipside, Hana Guellati cited that she preferred to build her own e-commerce platform rather than piggyback on existing online retailers: "To highlight Algerian products, it's important that our platform gives a voice to the handicraftsmen and women that are behind our artisan goods," she explained.
Women entrepreneurs in fragile states
A workshop titled 'BRAVE Women Symposium' discussed ways to support female entrepreneurs in fragile and conflict-affected countries. The session, led by the Islamic Development Bank, facilitated the sharing of experiences, knowledge and best practices, and identified measures to improve support to women-led small and medium-sized enterprises (WSMEs) in conflict-torn regions. The session was highlighted the moving experience of Naseem Al Gershi, a women entrepreneur from Yemen who runs a private school, who emphasized the need to support women as business owners even in the current circumstances where security and many basic needs are not met. She emphasized that even now women insist on maintaining existing businesses and start new ventures to support their local communities.
Safia Ali Aljabri of SMEPS (Small and Micro-Enterprises Promotion Agency), an SME development agency in Yemen added: "Supporting women entrepreneurs increases their income, promotes their confidence, provides them with better access to health and gives them dignity. The BRAVE project is making a huge impact in Yemen. Within one year, we will share more results and we hope that the resilience of Yemeni women is a story that is heard around the globe".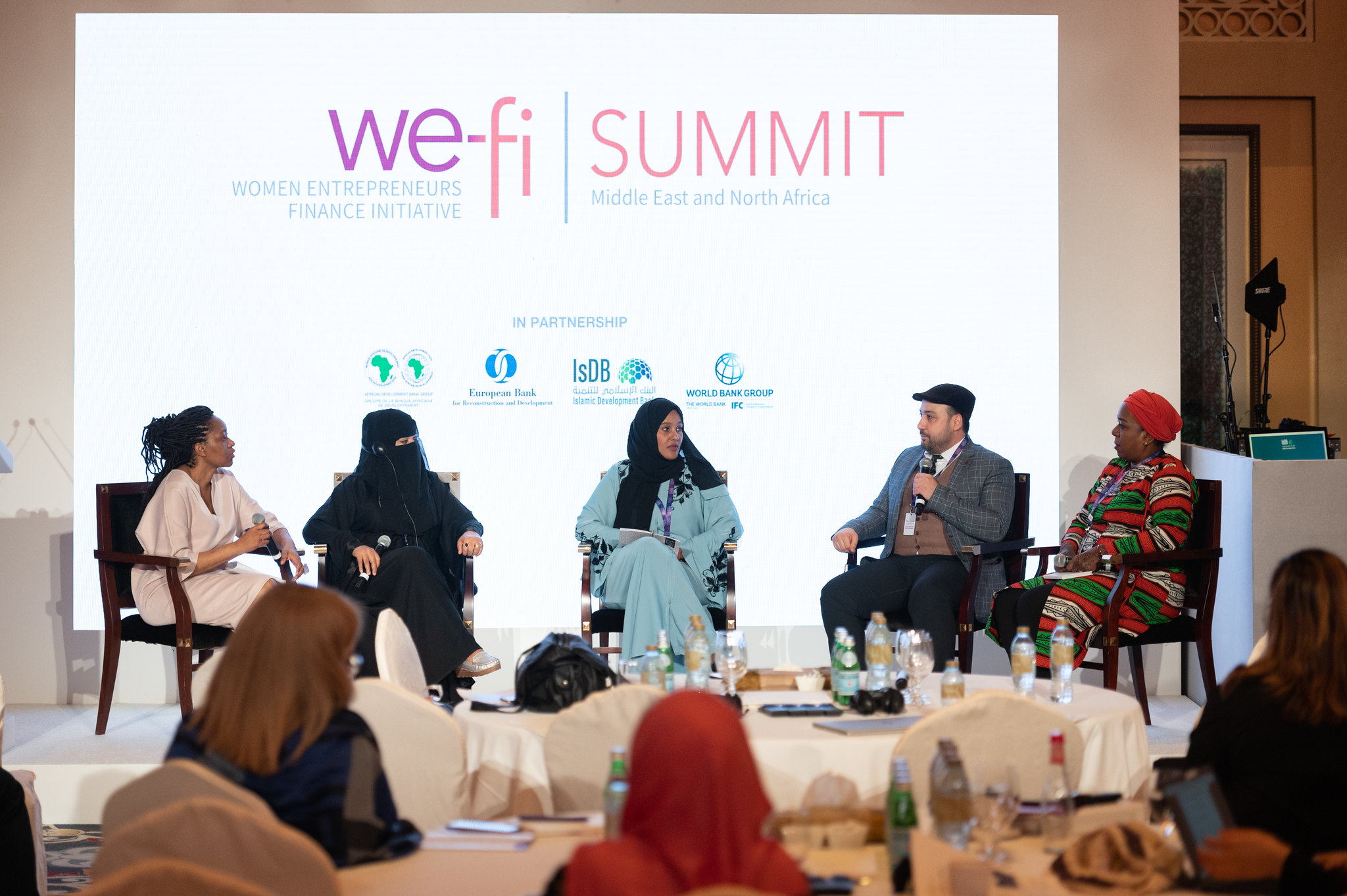 Early-stage financing is the missing link
In another We-Fi workshop, under the title 'Partnering to Accelerate Women-Led Businesses Growth', participants learned how accelerators and funders can design programs to help women entrepreneurs access capital and scale up their businesses. The session included a structured brainstorming activity, in the form of breakout groups made up of accelerators, seed funds, and venture capital firms, to shore up innovative solutions.
Early-stage financing was also the topic of a well-visited session at the interactive "Entrepreneurs Hub" in the exhibition space. The session, entitled "How to get Funded", was moderated by Shruti Chandrasekhar of IFC, and saw the participation of investment experts from across the region including Ramez El-Serafy, CEO, Flat6Labs Egypt; Dany Farha, Co-Founder & CEO, BECO Capital UAE; and Ambar Amleh, Chief Operating Officer, Ibtikar Fund Palestine.
Ramez El-Serafy, CEO, Flat6Labs Egypt, stressed on the importance of passion to drive start-up success at the earliest stages. "We pick teams and individuals who are passionate about their dreams and what they want to achieve. You can teach entrepreneurs virtually anything when it comes to doing business – but you can't instill passion," he said.
Ambar Amleh, Chief Operating Officer, Ibtikar Fund Palestine highlighted the importance of having women at the top levels of investment companies to encourage higher levels of participation from female-led start-ups. "Our team is primarily made up of women, and this means we are far more approachable to female entrepreneurs. They come to us much earlier for guidance on everything from their business concepts to their financials and their pitch decks," said Amleh.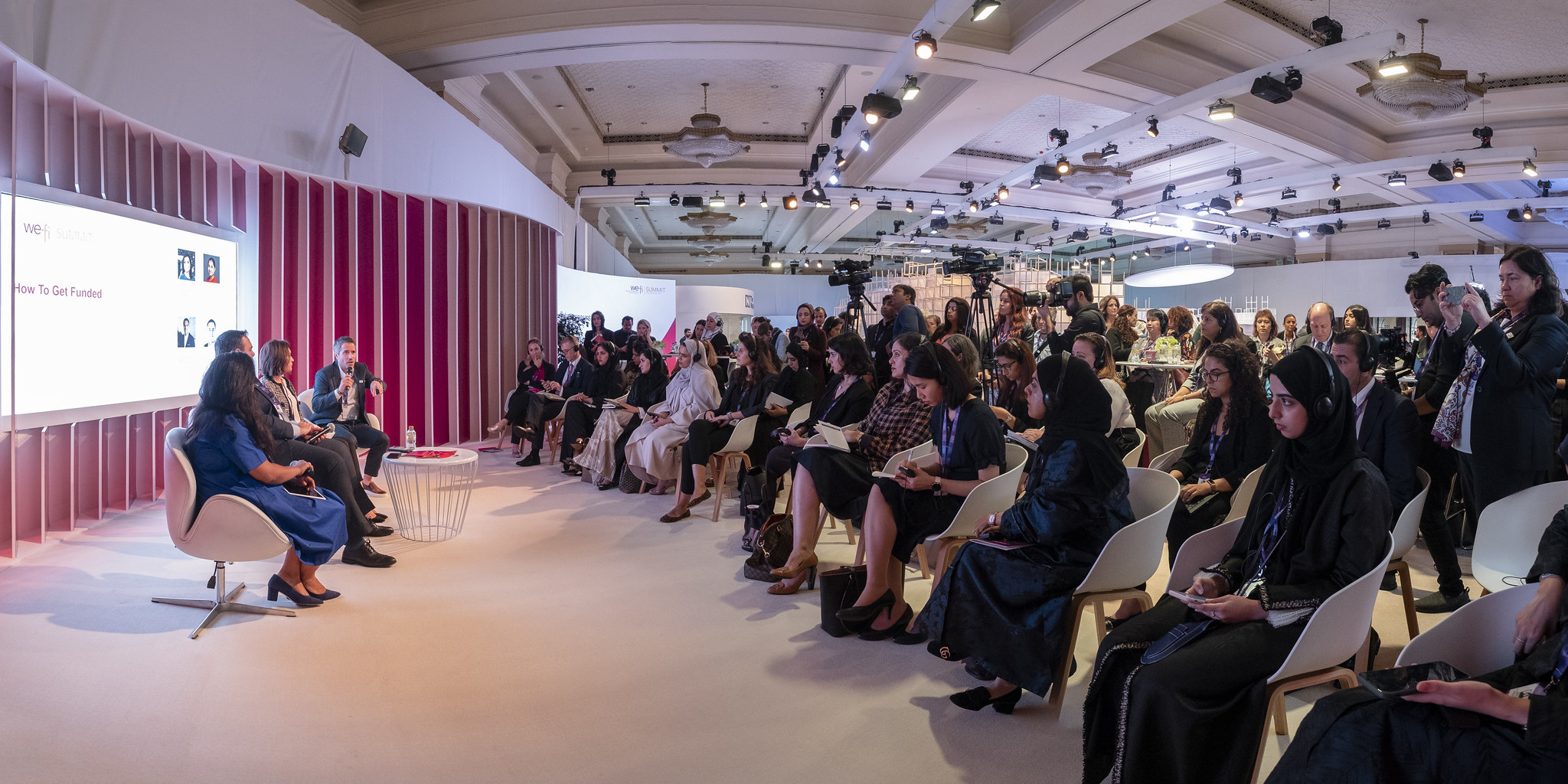 Organized over two days, the We-Fi MENA Regional Summit brought together over 200 delegates, including high-level Government representatives from MENA and We-Fi donor countries, leaders from the multilateral development banks, their private and public-sector partners and women entrepreneurs from the region.