Leadership Champions of the Women Entrepreneurs Finance Initiative (We-Fi) gathered for a first Online Discussion on Thursday October 8th, joined by the We-Fi Secretariat and MDB Implementing Partners. Leadership Champions (LCs) provided suggestions and ideas about how they and We-Fi partners can support women's entrepreneurship around the world, especially in these challenging times amidst the coronavirus crisis. The online event was also an introductory meeting for the second cohort of Leadership Champions confirmed for the period 2020 – June 2022.
World Bank Managing Director and Leadership Champion Mari Pangestu preceded the lively discussion with keynote remarks emphasizing the role of confidence and access to networks and capacity-building to boost entrepreneurs' business skills. Subsequently, two parallel break-out sessions centered around access to finance and access to markets and networks.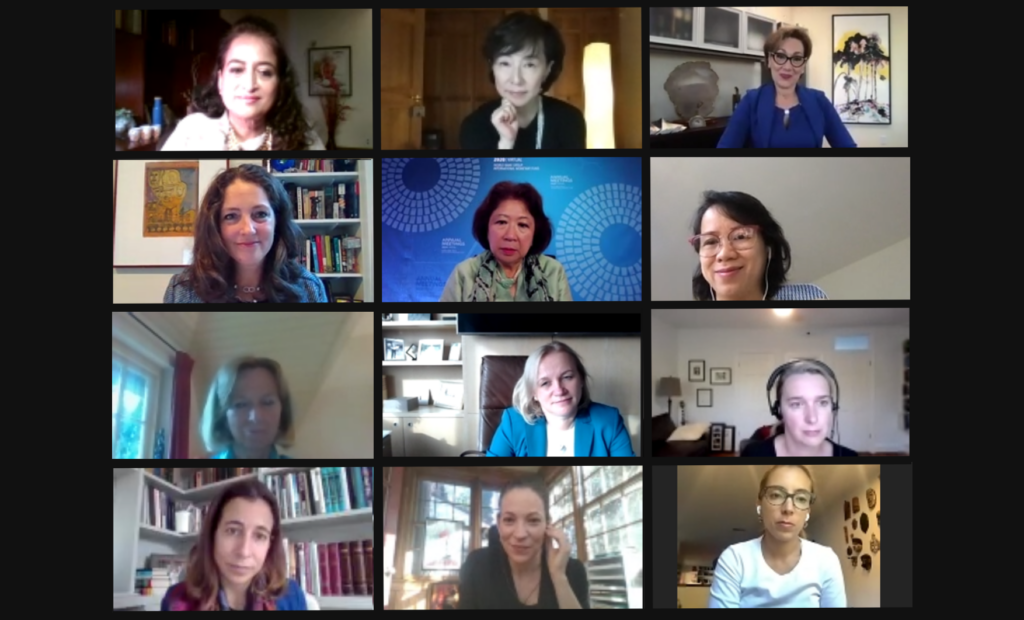 The Finance session provided the following insights:
In order to increase access to finance and push the gender agenda further within Financial Institutions (FIs), there needs to be a very strong commitment from the top. Such push needs to be accompanied by the development of key performance indicators to quantify progress.
Women entrepreneurs need to have more access to training to be able to access credits and other financial products; not only financial literacy but also training in, for example, presentation skills.
Measuring and reporting on progress of access to finance by FI's is key; there should be greater data transparency.
The session on Access to Markets and Networks focused on the key question of how to expand women's access to business connections, networks, and mentors. A few key points:
Access to networks needs to be structured and intentional and is actually a skill for women entrepreneurs to build and to be taught. Several Leadership Champions shared their practical experience of developing a network with structured networking for women. Digital connections bring larger networks.
Other than connections, women entrepreneurs need to have personal initiative and knowledge of business management, and therefor business skills training remains important.
Leadership Champions emphasized the need to go beyond their own circle of women; Other leaders need to be sensitized to the opportunity of supporting women entrepreneurs. LCs can have a key role to play in this sensitization and advocacy building. Leveraging media and social media platforms, showcasing successful and capable women, will help build that case.
Wendy Teleki, Head of the We-Fi Secretariat, concluded the meeting by encouraging connections between the LCs and Implementing Partners.
The We-Fi Secretariat is inviting the LCs to talk about We-Fi in their own networks and sectors and the Secretariat is happy to help happy to help with relevant materials, affirmed Teleki. Advocating through thought pieces (blogs, oped), events or social media messages could be very helpful. "Our door is open and please let us know how and when you would like engage more", she emphasized.