By Wendy Teleki, Head of the We-Fi Secretariat
If leading the We-Fi Secretariat for the past five years has taught me anything, it is that women entrepreneurs are some of the most fearless, resilient, and action-driven individuals. This month, as I travel to Asia and the Middle East to meet with our partners and beneficiaries, an important topic of discussion is how can we move as fast as the entrepreneurs we are supporting, and deliver the funding, mentoring and market opportunities they most urgently need.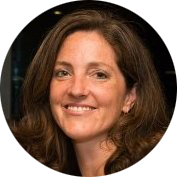 We-Fi already has a significant footprint in both regions: In Asia, we are working closely with the Asian Development Bank (ADB), the European Bank for Reconstruction and Development (EBRD), and the World Bank Group (WBG) in 17 countries across East Asia and the Pacific, Central Asia, and South Asia, allocating over $45 million in the region. Of all the women-led SMEs (WSMEs) We-Fi supported globally over the past five years, nearly half (over 23,399) are in Asia (learn more from our regional fact sheet). This is a testament to the swift action our implementing partners took amid the pandemic, and I was pleased to meet with some of them at this year's ADB Annual Meetings in Incheon, Korea.
While attending the ADB Annual Meetings, I spoke at a panel focused on digital technologies and financial inclusion, and how they can act as enablers of gender equality. This is another area where the development community can take immediate action to put more tools in the hands of women through working with financial institutions. In We-Fi's second five-year term, we will dedicate more resources to catalyzing systemic change – by encouraging more financial institutions to boost lending to women entrepreneurs through the use of data and technology, so please stay tuned as we announce these new initiatives in the coming months.
The Middle East and North Africa (MENA) region is another example where We-Fi is driving systemic change through our work with investors, innovators and policy champions. In addition to the World Bank and IFC, we are working with the Islamic Development Bank (IsDB) and African Development Bank (AfDB) to support the burgeoning women entrepreneurship ecosystem in the region. Close to 20% of We-Fi's total funding has been allocated to MENA, reaching WSMEs in 20 countries (download our MENA factsheet here). These efforts, together with We-Fi-supported work in the space of regulatory and legal reforms, are not only benefiting women entrepreneurs, but also changing mindsets and lifting social barriers. I am looking forward to joining our IsDB partners later this month during the IsDB Annual Meetings in Jeddah, Saudi Arabia and discuss how to accelerate our action in the region.
With the United Arab Emirates hosting COP28 this year, there is also an excellent opportunity for partners in the MENA region to showcase the crucial role women entrepreneurs play in delivering climate solutions, meanwhile recognizing that women are among the most vulnerable groups to suffer from climate risks. We-Fi is prepared to work with regional partners on exploring ways to integrate women's economic empowerment into discussions leading up to COP28 this November.
It is encouraging to see policymakers increasingly recognize the economic benefit of empowering women. Japan recently agreed to contribute to We-Fi's second five-year term, making it our second largest donor to date overall. With COP28 and the upcoming APEC Women and the Economy Summit on the horizon, let's leverage the momentum, put women at the center of policy agendas, and spring into action for gender equality.