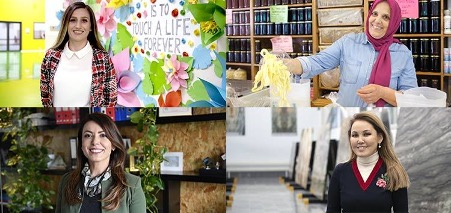 The Challenge
In the Kyrgyz Republic, small businesses are responsible for around 40% of GDP growth. Yet, only one-third of these companies are owned or led by women. Women-led businesses in the Kyrgyz Republic, and throughout Central Asia, face multi-faceted legal, cultural, and financial barriers that impede their growth. Low access to finance in particular limits their ability to expand their businesses.
Joining Forces
In June 2019, the EBRD with funding from We-Fi, established the "Women of the Steppe"  Program. This regional program, aimed at making access to finance more gender-inclusive, provides a unique mix of financing, advisory services, and policy dialogue to create lasting systemic change in the Kyrgyz Republic, Tajikistan, Uzbekistan, and Mongolia.
One of the partner institutions supported by the "Women of the Steppe"  Program in the Kyrgyz Republic is the First Microfinance Company (FMFC) –  one of the largest microfinance institutions in the country, with over 20,000 borrowers primarily in rural regions, served through its network of 15 branches. We-Fi funding is being used as a First-Loss Risk Cover, which would cover a portion of FMFC's losses on sub-loans to eligible women entrepreneurs. This structure provides FMFC with a risk-mitigating measure, which allows the bank to extend finance to women-led businesses that are perceived as a riskier client group. The program expects that the additional risk mitigation would increasingly allow creditworthy WSMEs to obtain loans, when otherwise they may have been refused.
EBRD with support from We-Fi, will also provide advisory services to FMFC, as well as capacity building of women entrepreneurs.
More Information: