By Wendy Teleki, Head of the We-Fi Secretariat
From New York to Abu Dhabi, Lagos to DC, I was inspired last month by women leaders and entrepreneurs as we celebrated International Women's Day with our partners. I even crossed off some things on my bucket list. 
The month of March kicked off with the Forbes 30/50 Summit in Abu Dhabi, where I co-moderated a discussion with an incredible group of female entrepreneurs and fellow "listers".  From a tech entrepreneur in Silicon Valley to a security company founder in Zimbabwe, it was stunning to hear the same common themes.  It was inspiring to hear their insistence that there was no trade-off between their business propositions and their desire for impact. However, it was also sobering to hear similar stories of discrimination and blocked access to markets and finance. I am grateful to my co-moderators, Iva Hamel from the World Bank and Monica Brand, my co-author of Rebalance: How Women Lead, Parent Partner and Thrive for sharing their perspectives.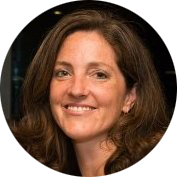 Female leadership is crucial in tackling the climate crisis, and it was an honor to engage with the UAE's team leading COP28 in Abu Dhabi and New York. The UAE is looking at ambitious gender deliverables for COP28, and there are many opportunities to support women entrepreneurs in the climate space. Watch this space as we work to change the landscape for women entrepreneurs in the climate sector. 
Another highlight was a standing-room-only side event at CSW67 co-hosted by We-Fi, the World Bank's Women, Business and the Law (WBL) project, and the Kingdom of Netherlands. Tea Trumbic shared the findings of WBL 2023. While the Netherlands has achieved equity according to the report, Dutch Ambassador Yoka Brandt and Chantal Korteweg emphasized that there is still much work to be done to achieve true gender equity. H.E. Hanan Ahli, Director of the UAE's Federal Competitiveness & Statistics Center impressed with UAE's success using data to improve the legal framework for women. The IMF's Katharine Christopherson shared her research and emphasized the critical role of leaders in motivating change. Esselina Macome, CEO of the Mozambique Financial Sector Deepening Program, closed by highlighting the importance of regulators and banks working together to overcome finance & data gaps. 
 I also participated virtually in the Central Bank of Nigeria's International Women's Day celebration. It was a warm and exciting conference, thanks in large part to Deputy Governor Aishah Ahmad. I was pleased to share We-Fi's Results, including our support for seven projects in Nigeria with a wonderful panel of Nigerian leaders. 
As for my bucket list? The Forbes Summit brought together and let me meet some of the iconic women who have broken down barriers for all of us and inspired me throughout my life. Hillary Clinton, Gloria Steinem, Billy Jean King, and Olena Zelenska spoke powerfully about advocating for justice, change, and women's rights in high-stakes situations. My key takeaways: always be prepared, find allies, value laughter, remember that equality is normal, and that when you stand up for yourself you stand up for others. In the words of Billy Jean King: Right on, sister!