The World Bank Group (WBG), in partnership with the Ministry of Commerce of Bangladesh and with implementation support from WEConnect International, administered a survey to understand the gender-inclusive sourcing landscape in Bangladesh. Respondents included 37 corporate representatives and 60 women entrepreneurs. Findings were further qualified through interviews and focus group discussions that were held with 17 women entrepreneurs, 16 corporate representatives, and 12 government, non-governmental, and financial sector stakeholders. Findings were subsequently validated during a half- day event with nearly 40 key stakeholders. Findings reveal that: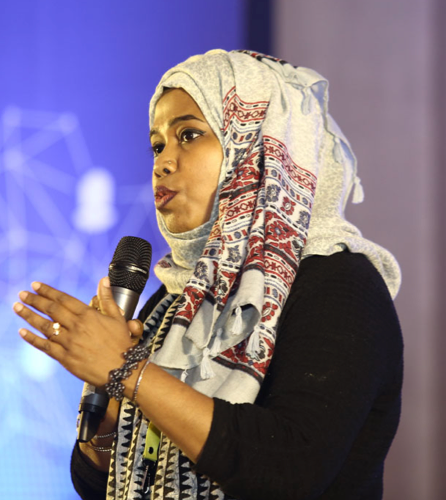 Naznin Nahar, Managing Director of TechSolutions, pitches her IT services business to a panel of investors at the 2020 Conference & Business Fair in Dhaka.
55% of corporate survey respondents believe that WSMEs' smaller size and limited access to finance will affect their ability to provide the highest-priority and best-quality goods and services procured locally by corporations.
Nearly 20% of corporate respondents do not know whether their corporation procures from WSMEs. During interviews, they indicated that they do not know how to identify WSMEs – that many WSMEs are not listed with business associations, or their information is out of date, making it difficult for buyers to access information.
Access to capital is ranked as a top challenge (in Bangladesh 36% of women have a bank accocmoupnartecdompared to 65% of men). Interviews revealed that the process of applying for a business loan is perceived as complicated, with few lending institutions willing to offer the amount of financing at the terms and conditions sought by WSMEs. Financing options are either too small falling into the microfinance range or too large with prohibitive collateral, interest rates, or repayment terms.
There is a perception among WSMEs that entrepreneurship is not a respected career path for women in Bangladesh. During interviews, WSMEs noted that societal and familial pressures were the greatest barriers to starting and growing their businesses. Interviewees who had family members who were business owners or otherwise supportive of entrepreneurship felt this helped them significantly, but that broader societal disapproval of women entrepreneurs still posed significant challenges to their success.
48% of women business owners report difficulty in making connections to corporate buyers.
52% of the WSME survey respondents employ 11-100 workers and 27% have average revenue growth between 5-10% per year.
29% of corporate representatives state that their company policy encourages sourcing from WSMEs.
Jute goods, information and communication technology services, and corporate gift items are sectors with both buyer need and supply capacity from WSMEs in Bangladesh.
Corporate representatives welcome access to a database containing information on WSME offerings and corporate procurement needs to make it easier for both parties to do business together.