Almost five years ago, we created an international partnership focused on providing women the means to start and sustain businesses, bring solutions and services to their communities, and employ others while doing so. We did this because we believe that gender equality and women's economic empowerment are the bedrock of thriving, inclusive societies. We are unwavering in this belief, even as the COVID-19 pandemic has thrown the world into crisis.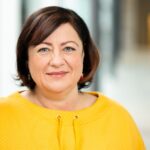 Dr Bärbel Kofler
Parliamentary State Secretary to the Federal Minister for Economic Cooperation and Development, Germany
In 2021, the Women Entrepreneurs Finance Initiative (We-Fi) continued its work helping women entrepreneurs manage the setbacks brought on by the pandemic, build resilience, and seize opportunities to pivot their businesses. Despite COVID-19-related restrictions, We-Fi Implementing Partners have stepped up with activities in 52 low and middle-income countries through partnerships with 141 public and private sector institutions.
Digital technologies and access to digitized marketplaces and financial services have been invaluable in facilitating the survival of women-led businesses and in several cases, their growth and success during the pandemic. In August 2020, We-Fi assigned almost $50 million, in addition to the already allocated $249 million, to provide more access to innovation, digital skills and technologies, and financing addressing the COVID-19 recovery of women entrepreneurs. This decisive investment is paying off, and we are pleased to share initial results in this report.
Women have borne the brunt of the COVID-19 crisis at home and in the workplace, and in 2021, gender equality was given a much-needed global stage at the G20 Leaders' Summit in Italy and the Generation Equality Forum. The G20, which stood at the cradle of We-Fi in 2017, reaffirmed its commitment to gender equality and the promotion of women's entrepreneurship and emphasized We-Fi's role as an important partnership to support women-led SMEs.
The Generation Equality Forum of June 2021 highlighted the work of many We-Fi partners in supporting women's economic empowerment. It gave us the opportunity to demonstrate Germany's commitment to fostering women entrepreneurship worldwide by taking the first step toward fundraising for We-Fi's future.
This annual report, with operational results listed until July 2021, covers the first year of the chairmanship of We-Fi's Governing Committee by Germany. In the fall of 2021, the Governing Committee reviewed the partnership's results and options for the future as the end of the first five-year allocation period is nearing. I am pleased to note that the members of the Governing Committee expressed their confidence and decided that We-Fi would continue to carry on its mission, which envisions new contributions from existing donors, new bilateral donors, and philanthropies in 2022 and beyond.
While economic uncertainty of the ongoing pandemic may cloud the future, one thing is clear: We remain steadfast in our commitment to advancing women's economic empowerment and entrepreneurship. Women entrepreneurs have an important role in driving economic recovery and growth. The innovative programs and solutions We-Fi enables to support women today will help build a society that is more resilient, inclusive, and equitable for everyone and for generations to come.