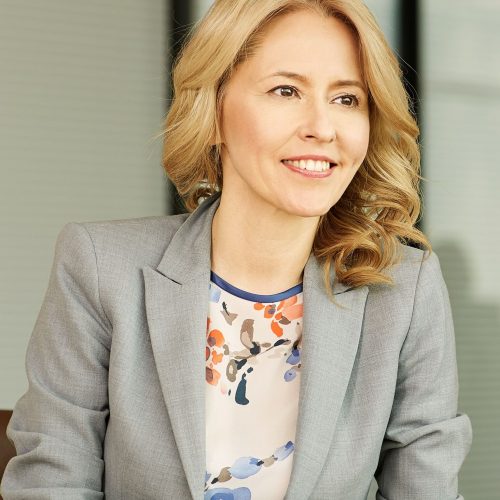 Board Member and Head of Small and Medium Enterprise Division, Otkritie FC Bank (Russian Federation)
Nadiya Cherkasova is a Board member of Otkritie, one of Russia's Top 10 largest commercial banks, and the managing director of the bank's small and medium enterprise (SME) division. The scope of her responsibilities covers areas such as B2B product development, client engagement, and digital channel development, including internet banking.
During her 25-year experience in the banking industry, Nadiya has made a meaningful contribution to the development of Russia's SME banking segment. At the onset of her career, she worked in the program of the European Bank for Reconstruction and Development (EBRD) to develop a lending mechanism for SMEs in Russia. In 2007, she was named by the Journal of World Business (U.K.) one of the 35 Most Successful Women in Business under 35 for implementing the first scoring system in microfinance in the country. In 2010, Nadiya was named the Person of the Year by the banking portal Banki.ru and included on the list of the Top 50 Most Successful Business Women in Russia.
That award inspired Nadiya to deepen her involvement in women's entrepreneurship by creating the Committee on Women's Entrepreneurship Development at OPORA of Russia. OPORA is a major non-profit organization focusing on SME entrepreneurship that has been helping more than half a million entrepreneurs in 85 regions of Russia. Under her leadership, the Committee has focused on providing women entrepreneurs with access to four key resources: Information; Financing; Business training; and Markets, both domestic and international. The Committee's additional initiatives that are aimed at women's economic empowerment include 1), initiating the APEC Best Efficiency and Success Target Award (APEC BEST) to acknowledge the best entrepreneurship projects in the Asia Pacific region; and 2), cooperating with the United Nations Industrial Development Organization (UNIDO).
Her other leadership roles include serving as a Board member of MSP Corporation, a major institution started by the President of Russia to support SMEs. In addition, Nadiya is a Board member of the Fintech Association, an organization that promotes fintech innovation in Russia. She is also the founder of Boomstarter.ru, the largest crowdfunding platform in the country.
Nadiya is a mother of three children. In her spare time, she enjoys traveling the world with her family, watching movies of European art cinema, and practicing yoga.